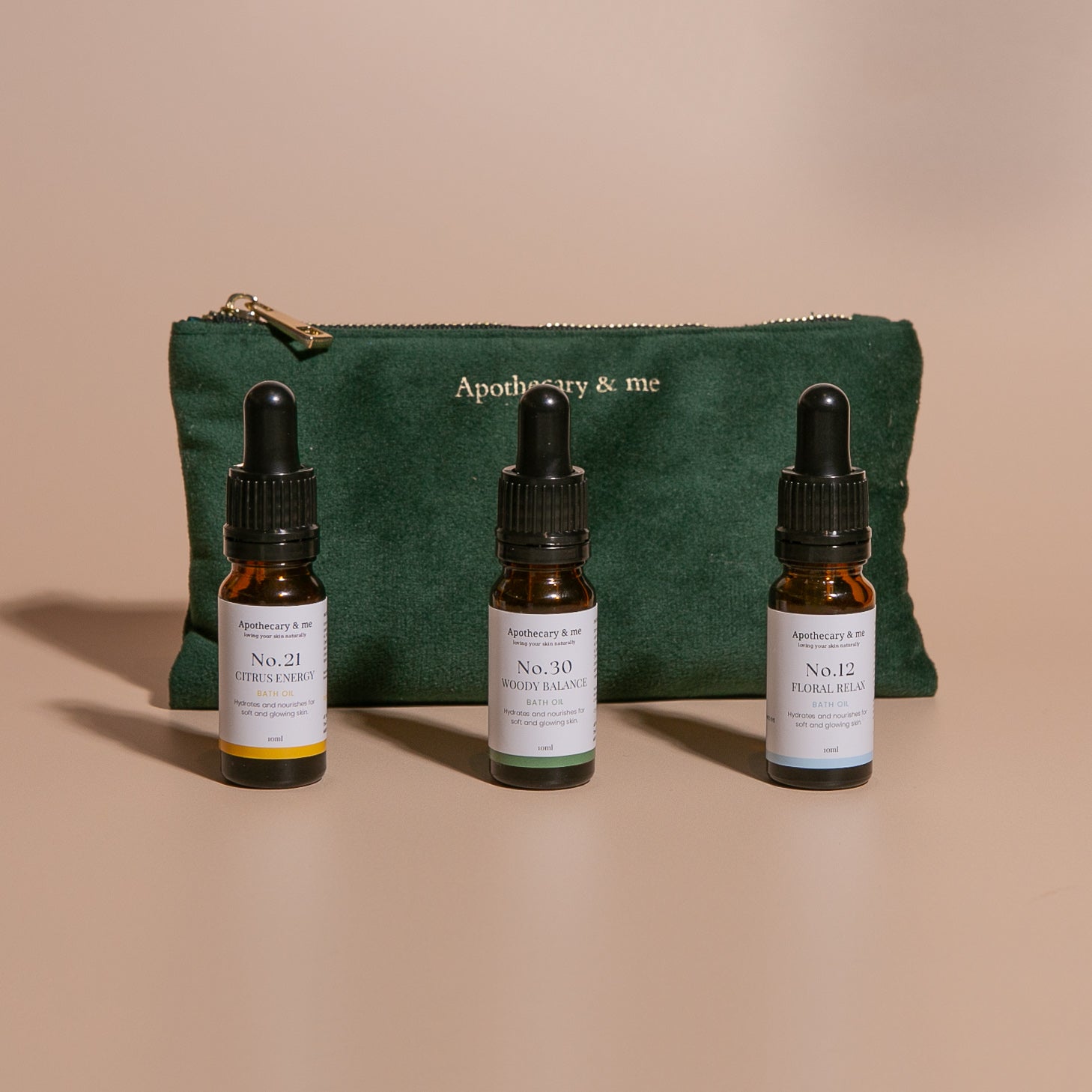 shipping from £3.99, free over £45
Indulge in the ultimate bathing experience with our luxurious Bath Oil Gift Set – a selection of three 10ml bottles of your choice, encapsulating the essence of floral, citrus or woody scents. This set invites you to become your own apothecary, allowing you to personalise your bathing ritual and discover scents that resonate with your unique preferences.

Housed in a sumptuous Green Velvet Gift Bag, this collection is not just an assortment of bath oils; it's a sensory journey waiting to unfold. Immerse yourself in the opulence of our thoughtfully blended oils, designed to transport you to a realm of relaxation, balance or invigoration.

Whether you're seeking a soothing floral escape, an invigorating citrus burst, or a calming woody retreat, our Bath Oil Gift Set offers a diverse range of scents to cater to your every mood. Elevate your self-care routine or gift this opulent collection to a loved one, and let the transformative power of our bath oils turn every bath into a luxurious escape. Embrace the art of self-care with the perfect blend of nature and indulgence.
Anti-ageing - Rich in antioxidants to keep your cells in good health making the skin softer and giving it a smoother appearance.
Improves suppleness by repairing & maintaining the skins natural barrier function and boosting lipid content.
Glow - Two absolute oil super-powers are combined to replenish your skin's hydration, texture and appearance, restoring your glow, organically.
Haircare - Plant-derived oils boost hair health, encouraging strength, growth, shine and helps with split ends.
Anti-inflammatory - Packed with vitamin E, jojoba is an antioxidant, reducing inflammation on the skin.
Sensitive skin - Jojoba & safflower oils heal and soothe to improve the symptoms of eczema, acne and psoriasis.
Simmondsia chinensis (jojoba) seed oil*, Cathamus tinctorius (safflower) seed oil*, a blend of essential oils based on selection.
For a detailed breakdown please visit the individual bath oil's main product page
* organic
1. Add a pipette full (or two) of bath oil under running water into your bath.
2. For an enhanced experience, rub a few drops on your palms and inhale gently.
Share
What a great way to introduce a friend to these all-natural products! Anything I can do to talk friends out of using toxic bubble baths I'll do and of course she loves these so it has worked like a charm.
Wonderfully moisturising with a beautiful, natural fragrance.
I bought 2 gift sets and gave them to friends who were thrilled. The bath oils have beautiful scents and the skin feels rejuvenated.